Ogółem o Hendrixie
Jimi Hendrix, wlasc. James Marshall Hendrix (ur. 27 listopada 1942 w Seattle w USA, zm. 18 wrzesnia 1970 w Londynie w Anglii) amerykanski gitarzysta,
wokalista, kompozytor, w jego muzyce doszukac sie mozna scisle zakorzenionej muzyki bluesowej, jazz rocka, oraz opartego na riffach hard rocka, ktorego jest
jednym z prekursorow. W 2003 pojawil sie na 1. miejscu listy 100 najwiekszych gitarzystow wszech czasow magazynu "Rolling Stone".
Rozpoczal swa kariere muzyczna we wczesnych latach szescdziesiatych jako ceniony muzyk studyjny. Nagrywal miedzy innymi z Little Richardem, Kingiem Curtisem
i Johnem Hammondem. Koncertowal takze w lokalnych klubach. W 1966 w czasie jednej ze swych wizyt w nowojorskim klubie bluesowym (Cafe Wha), dawny basista
grupy The Animals, Chas Chandler, uslyszal grajacego Hendriksa. Namowil go na przyjazd do Londynu i nagrywanie muzyki z nim samym jako producentem.
W 1967 zostal wydany pierwszy album Hendriksa Are You Experienced?. W kolejnych trzech latach Hendrix wydal jeszcze dwa albumy Axis Bold as Love
i Electric Ladyland, na ktorych znalazly się takie przeboje, jak Little Wing, Voodoo Chile, Spanish Castle Magic, All Along the Watchtower (cover piosenki
Boba Dylana) czy Gypsy Eyes.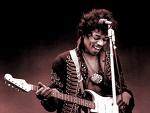 Albumy
Albumy wydane za życia
1967: Are You Experienced?
1967: Axis: Bold as Love
1968: Electric Ladyland
1970: Band of Gypsys (live)
Albumy wydane po smierci
1969: Smash Hits
1970: Early Jimi Hendrix, Vol. 2 (live)
1971: Cry of Love
1971: Isle of Wight (live)
1971: Hendrix in the West (1971; live)
1975: Hendrix 66 (live)
1982: Hendrix Concerts (live)
1982: The Jimi Hendrix Concerts (live)
1982: The Concerts (live)
1984: Jimi Hendrix Live
1986: Jimi Plays Monterey (live)
1987: Live at Winterland
1989: Radio One
1990: The Last Experience Concert
1990: Picture Disc
1991: Isle of Wight '70
1994: Jimi Hendrix – Woodstock
1994: Bleeding Heart
1994: Jimi Hendrix & Little Richard
1994: Live at the Scene
1995: Woodstock 10-Pack
1995: Experience (Original Soundtrack)
1995: Voodoo Soup
1995: Monday Morning – Jimi at Woodstock
1995: Sunshine of Your Love
1997: First Rays of the New Rising Sun
1997: South Saturn Delta
1998: Woke Up This Morning and Found Myself Dead (live)
1998: NYC '68 (live)
1999: Live at the Fillmore East
1999: Live at Woodstock
2000: Rare as Love Dressed to
2001: Woke Up This Morning and Found Myself Dead... [live]
2002: The Baggy's Rehearsal Sessions
2002: Blue Wild Angel – Live at the Isle of Wight
2003: The Rainbow Bridge Concert – The Early Show (live)
2003: The Rainbow Bridge Concert – The Late Show (live)
2003: Voices
2003: Live at Berkeley – 2nd Show
2003: Rainbow Bridge Concert (live)
2003: The Rainbow Bridge Concert – Both Shows (live)
2003: The Berkeley Concerts
Zespoły
Band of Gypsys (1969)
The Jimi Hendrix Experience (1966)
Jimmi James and The Blue Flames (1962)
Rockin Kings (1960)
Współpracpwnicy
Mitch Mitchell (perkusja)
Noel Redding (gitara basowa)
Billy Cox (gitara basowa)
Buddy Miles (perkusja)
Sprzet
Fender Stratocaster
Gibson Flying V
12 strunowy Zemaitis
Galeria






Kontakt
gg: 3336264
tel. 602 834 439